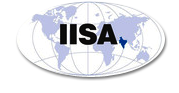 IISA-2017 Conference Rules and Guidelines for Posters
Rules
Size: The posters should measure approximately

30 in x 40 in

. No poster should be larger than

30 x 40 inches

.
Orientation: The posters should be portrait oriented.
Poster hanging: At the venue, the posters will be pinned either to a white-board, or ply.
Time: The conference program has the times when the posters could be mounted.
Readability and quality: Please make the posters such that all matter can be read clearly from a distance of 2-3 feet.
For those in the student poster competition: your posters will be judged based on the innovation, clarity of message and presentation.
Guidelines
Comply with Rules: Read and comply with specific rules stated above. If you have doubts, do not assume anything – check with the program committee chairperson.
Poster should not be overloaded: Do not put excessive information in your poster. That discourages the viewer! For two reasons: (a) the matter is too small to read from 3 feet away and (b) the poster will demand too much time; and s/he has 30 other posters to view! Therefore, your poster should bold, ultra-simple, sparse and clear, so that the viewer is encouraged to stop by and look at it. Do not worry if your poster does not look 'sophisticated'. Viewers prefer simplicity a hundred times more than sophistication, because that ironically often leads to complication. Also, visuals and diagrams work far, far better than a lot of text.
2-minute pitch: You should prepare and rehearse a 2-minute pitch that powerfully conveys the gist of your message. The objective of your 2-minute pitch is to kindle interest, so that the viewer will seek more detail, either at the same event or later through email. If you succeed in getting to that point with several viewers, your poster will be successful!
Prepare for a marathon: A poster presentation is only 2 minutes long, but has to be repeated many times! And every single time you need to be smiling, energetic and enthusiastic. Prepare yourself mentally for this.
Beware the apparent expert: There is that occasional person in the audience who may show very keen interest in your poster. Do not get carried away into a 10-minute discussion. Because for other walkers-by the talk will not be understandable and you will lose them. You can tell Ms. Enthusiastic something like: "Let's catch up over tea / lunch (or whatever), I will love to tell you more".
Voice: You need to be loud and clear. Not so loud that you will disturb the next poster, but loud enough for the audience to not have to strain to hear you. If you are not naturally a loud speaker, this takes a little bit of practice.
Bottomline: Go Forth and Enjoy! You will do a terrific job.
Wish you the very best.